Hello there! This is Cris from GOODEness Gracious where we are cooking up all kinds of GOODe things with a side of life and Recipes That Crock where we are dedicated to all things slow cooking-- all year 'round! Brandie is such a great friend, so when she asked me to guest post because the Cook is without her kitchen, I immediately told her yes. Ya see I can totally relate to being without a kitchen after I went without my kitchen unexpectedly a few years ago for an eternity! Okay it was just from a week before Thanksgiving all the way until a week after Christmas but it felt like forever and it had surprise after surprise before we finally had to have a full kitchen remodel. So when Brandie asked about a guest post, I instantly started thinking through the things I could share with you today and I think I have just the thing: Mini Pie Bites!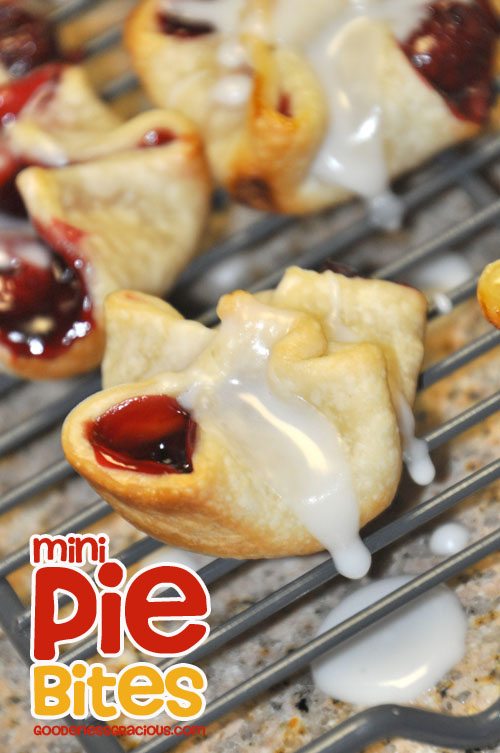 These little pies are perfect for any get-together, super easy to make, fun to make with the kiddos and most importantly have the remarkable ability to actually make everyone happy! I don't know about you, but pie can be a point of contention at our family gatherings. Papaw LOVES peach, but Daddy is an apple fan. And Memaw, Aunt Lou and Mommy all love cherry but the guys all detest it. Oh, and Grandma just adores blackberry. In fact, I think my daughter--Miss Add-- is about the only one in the family that isn't particular about her pie! So when we discovered the idea to make mini pie bites with all the different flavors in Gooseberry Patch's

Game-Day Fan Fare

Cookbook, I realized we had finally found the solution to our pie problem!
And when Miss Add and I discovered how easy they were, we were sold. She loves to help me make these before family gatherings.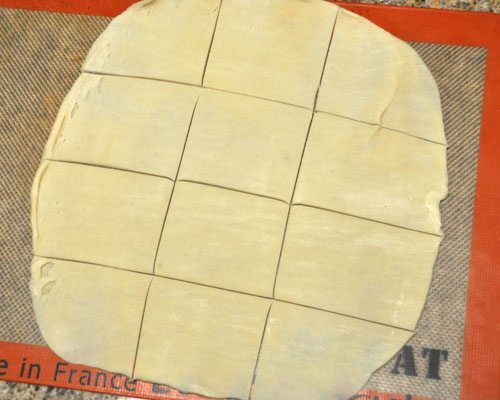 All you do is take a pie crust and roll it out a bit and cut into 12 square-ish like pieces.
We just took a pre-made pie crust (if you'd prefer homemade, check out this
easy homemade pie mix
to keep on hand)
.
Then we took all of the squares and filled them with different flavors of pie filling. Peach for Papaw. Apple for Daddy. Cherry for the ladies. Blackberry for Grandma. And plenty of extra ones in all the flavors for Miss Add!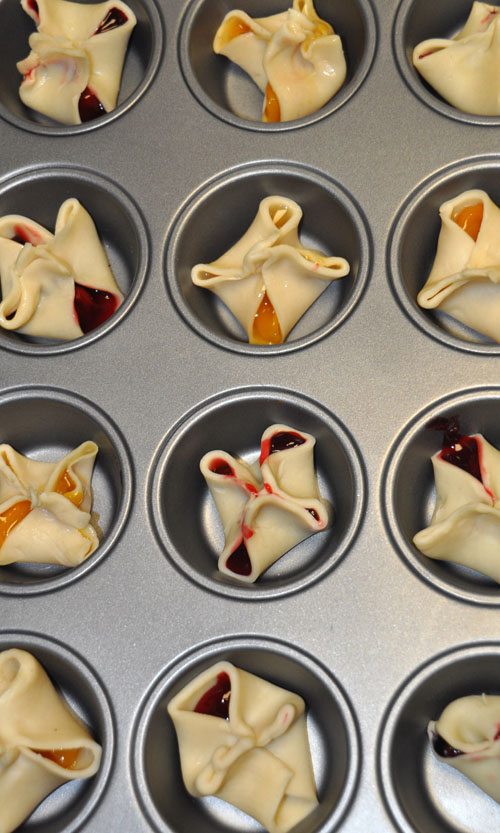 Then we pinched the sides together to make cute little pie purses and popped them into ungreased muffin tins to bake at 450 for 10-15 minutes or until golden.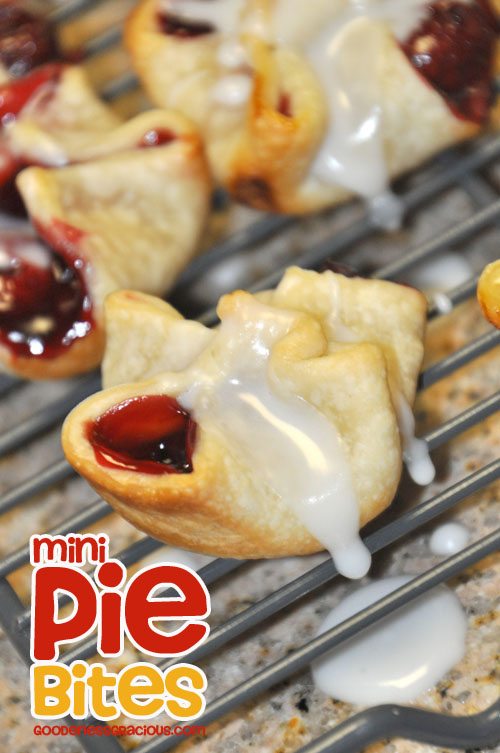 Once those little pies are cool, you just drizzle with a simple powdered sugar icing and stand back as they fly off the plate!

Ingredients:
2 pie crusts (dough rolled out)
favorite pie fillings (approximately 1 cup)
1/2 cup powdered sugar
1 tbsp. milk
Directions:
Roll out pie crusts and cut each into 12 square-like pieces.
Add a teaspoon or two of your favorite filling to each square and pinch shut.
Place each pie in a muffin cup and bake at 450 for 10-15 minutes or until golden.
Mix together milk and powdered sugar.
Cool pies and then drizzle with icing mixture.
Enjoy!
PRINTABLE RECIPE HERE