Finely chop the red pepper and green onion. You want small pieces, not big chunks. Be sure to save the stem of the red pepper. It's going to be our pumpkin stem! I just wrap the stem up in a slightly dampened paper towel and wrap that up in some Glad ClingWrap and put it in the fridge until I'm ready for it.
Then stir in 2 tablespoons of Hidden Valley Ranch Spicy Ranch mix. Note: This was not spicy in this cheeseball at all. It just gave it a small kick of flavor. You can always use the Hidden Valley Original Ranch flavor for this!
Now, time to wrap it up with rubber bands. You can also use kitchen string for this. You will need 4 large rubber bands. This is why it's important to have a tightly wrapped cheeseball with two layers. We don't want any cheeseball mix squeezing out while we're putting on the rubber bands. (Ask me how I know.) With these rubber bands, I had to double wrap each one to get those long indentations we're looking for to make the pumpkin shape. You can also use kitchen twine for this if that makes it easier for you.
Place cheeseball into the fridge for a minimum of two hours (overnight is best.) Not only do the flavors get better as it sits, but as the mixture cools, it will help it to form that pumpkin shape. When ready, cut off the rubber bands and carefully remove the cling wrap. Then add on the red pepper stem to the top. Just gently push it in there. Serve with your favorite buttery crackers.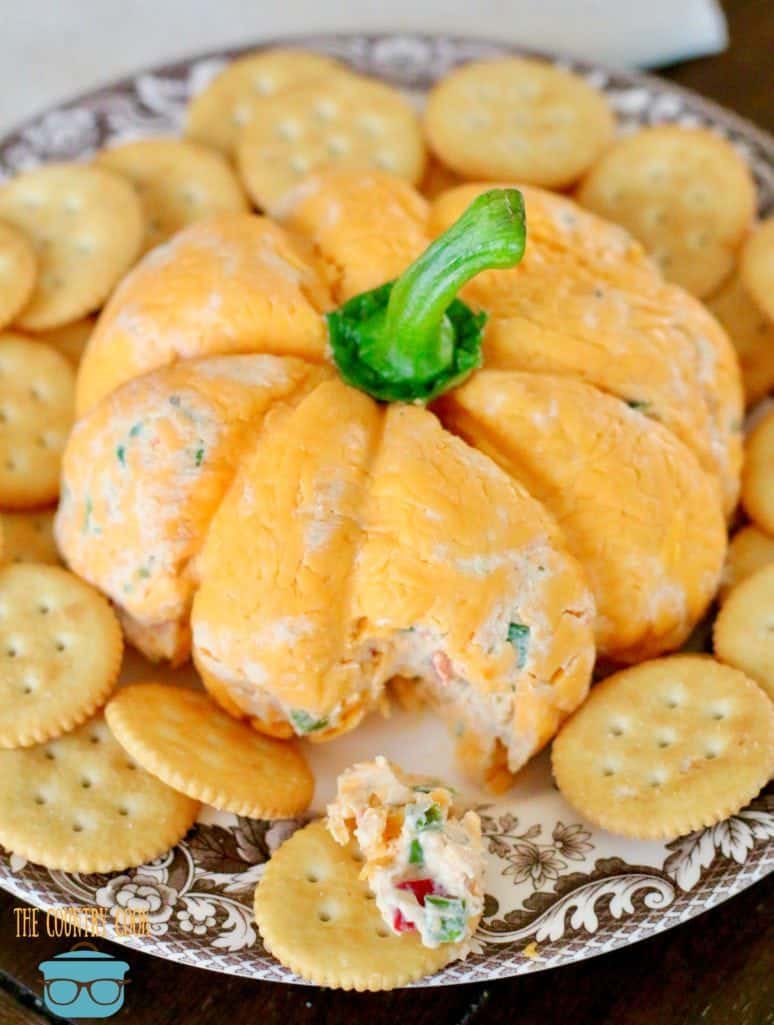 Got leftovers? No problem. Just pop your leftover cheeseball into a tall and large Glad entree container and you'll have it ready to snack on for later!
Cook's Note: I like to use freshly grated cheddar cheese for this. It is stickier than the pre-shredded kind and that helps when forming the cheeseball.
SaveSave
SaveSave
SaveSave
SaveSave
SaveSave
SaveSave
SaveSave